I had the absolute pleasure of being on my campus for 3 1/2 years as the principal before the pandemic shut down. Because I relied so heavily on my face-to-face interaction with my staff, I felt I was pushed out of my comfort zone when trying to connect with them as we were all dispersed across Austin, TX.
I had to think quickly about how I could continue to maintain relationships and be sure that my staff knew that I still cared for them. They needed to know I was there for them when they needed me the most. By creating Google form weekly check-ins, I was able to get a snapshot of where my teachers were as each week progressed. I had used forms to assess climate and culture in the past, but it was typically only once a semester. Last March, they became a weekly routine.
The catch to sending out surveys to 80+ staff members is that you must be committed to reading all 80 forms that you receive back. I allowed myself at least one week to read through all of the comments and was intentional about how many questions I put on the form. I had quick multiple-choice answers that would measure their home/work balance, safety concerns and determine if there was an immediate need for an admin check-in. I also asked a handful of free-form questions. They typically were around identifying ways they were engaging in self-care, something that made them proud, positives about team collaboration, etc. The thoughtful responses were where I gleaned the most information and could tell how each staff member was emotionally and mentally. I appreciated their vulnerability and willingness to answer as honestly as they did.
Each time I sent out a form, I would either send a text message or an email highlighting one or two things shared with me on the staff member's form. I would commend them on the work they were doing and provided encouragement. Overall, I wanted to be sure that I sent a positive message to let them know they were not alone.
I always value the feedback that the staff provides me. Some comments I received were, "I know you can't do anything about this… but just having the opportunity to share makes me feel better right now." "Wow, thank you for taking the time to respond." "Thank you for the support."
These responses and reactions made the time spent on responding worth every minute. There were so many times that I felt helpless as a leader and this tiny gesture gave me just a bit of control. I could still connect with my staff even though it was from afar. I have continued this type of interaction this year; however, the frequency has dissipated since we have been back in the building. When we have made the inevitable pivot back to remote, I am grateful for the opportunity to continue to check in on my staff's well-being.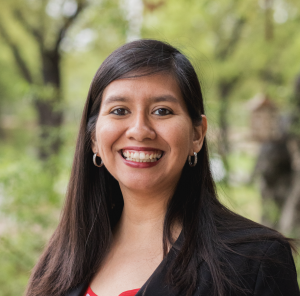 Amy Gonzales is currently the principal at Nan Clayton Elementary in Austin ISD.  She served as an Assistant Principal for three years and serving as the campus principal for her fifth year.  She is in her seventeenth year overall with the district.  Amy has presented at the TEPSA Summer Conference in 2018 and 2019 and will be presenting this summer virtually.  Amy has four kids and a loving and supportive husband.  During her free time, she enjoys being with her family, reading a good book, and practicing self-care in several ways.