Read, Learn and Connect with John Wink
Want Your PLC and Other Meetings Planned for the Year?
Read "A Teacher's Guide to Excellence in Every Classroom" and dive deep into the Hierarchy of Student Excellence with John via a 4-part video series and one hour live Q&A. Give teachers powerful strategies to:
Redesign their classrooms
Help students discover excellence inside themselves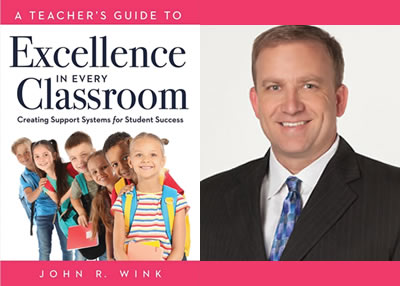 Presented by John Wink, Carthage ISD Superintendent and Author.
$199 Package Includes:
4-Part Webinar Series (30 minutes each): Watch at Your Convenience
Developing Your Leadership Philosophy and Structure

Unleashing Leadership in Levels 1 & 2 of Hierarchy of Student Excellence

Building Leadership Capacity in Levels 3 & 4 of Hierarchy of Student Excellence

Leading Student Growth in Levels 5 & 6 of Hierarchy of Student Excellence

A one hour Live Q&A with John Wink, Coming this Winter (recording available)
Completion of the book, recordings and Q&A is worth 8 CPE credits. Package is perfect for PLC meetings, staff meetings, grade level meetings and new teacher training.