One of the most important lessons we've learned during the pandemic is we all need effective leadership now more than ever! TEPSA's Student Leadership Workshops (Leaders 'Я' Us) rose to the challenge at the beginning of the stay-at-home orders and shared ideas with advisors on how to continue to provide learners the opportunity to lead off campus.
Most school districts have indicated students will not be taking field trips and outside presenters will not be allowed on campuses this fall. In response, TEPSA Leaders 'Я' Us will be offering virtual workshops for student leaders in grades 4-8 and their advisor(s). We are meeting leaders where they are!
The workshops are designed for all student leadership teams whether they are on campus or learning from home. The online workshop will focus on leadership skills and strategies for leading from home and/or on campus as well as transitioning between the two.
Our learners have missed being with their peers and educators. The virtual workshops will ensure your student leadership teams have a unique opportunity to learn along with their peers from across the state and help them maintain momentum. Most importantly, we will teach our student leadership teams how to lead in all situations.
More information on registration, technology guidelines, and resources that will be used during the workshop as well as throughout the school year can be found here.
We encourage your student leadership teams, whether Student Councils, Leader in Me, Character Councils, Ambassadors, National Junior Honor Society, Rachel's Challenge, Kindness Clubs, House Leaders, etc., to join us online this fall. We'll teach student leaders across the state how to Bravely and Boldly Lead on campus or from home!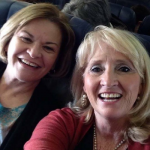 Pam Mitchell and Kimmie Etheredge are TEPSA's Student Leadership Project Directors.
TEPSA News, September/October 2020, Vol 77, No 5
Copyright © 2020 by the Texas Elementary Principals and Supervisors Association. No part of articles in TEPSA publications or on the website may be reproduced in any medium without the permission of the Texas Elementary Principals and Supervisors Association.