It has been a tremendous honor and privilege to serve as TEPSA's state president, and it is hard to believe the 2022-2023 school year is coming to an end. As we enter the last few weeks, I would like to reflect on a quote I shared with you last August:
Just as ripples spread out when a single pebble is dropped into water, the actions of individuals can have far-reaching effects. -Dalai Lama
Over the course of the 2022-2023 school year, your actions have had "far-reaching effects." You have made countless ripples with your students, your families, your colleagues, and in your communities.  As a leader, it is often the small things that make the greatest impact with those around you. It could be the pop tart you found for the student who arrived at school hungry after a difficult morning. It may be the phone call you made to a parent to celebrate a child's progress. With a staff member, it could be the word of encouragement or praise you offered when she was having a tough day. You have done all these things this year, and while you may have perceived your efforts as minimal, the ripple you created had an enormous effect on another individual.
As a school or district leader, you have worked hard to provide your students and your school families with an extraordinary year! You have ensured this year has been filled with special memories, meaningful events, and incredible learning experiences. Creating all these ripples can be exhausting!  During the summer months, take time to rest, relax, and unwind. You will also want to attend the TEPSA's Summer Conference, June 7-9, to hear fresh ideas and get inspired for the 2023-2024 school year. Take special care of yourself over the next few months so that you are rested and ready to return in August. Everyone is counting on you to create more ripples next year!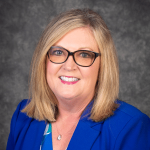 Cindy Tierney is the Executive Director of Student Services & Federal Programs in Lufkin ISD.