While the elections are over, the next stage is just beginning. We are entering a different season of civic engagement – one of advocacy and engagement with your elected officials.
People often see elections as separate from advocacy. Elections come, people vote, and then they are happy or disappointed in the results. We love our kids, our teachers, our schools, and our communities. And we vote for people we hope will share these values.
Sometimes it works out and we get leaders who agree. But sometimes, it doesn't, and we can't just take our marbles and go home. We need to roll up our sleeves and get to work. When the legislative session rolls around, or our school board meets, we need to engage with the people who hold elected office. Whether we picked them or not.
You may be delighted with your representatives. If so, send them a congratulations! If not, you still have the power. Reach out and wish them luck and offer to meet and be their advisor on things about public ed. Tell them that they represent you and you want to work with them. Educate them on things there is no way they can know and give them the chance to learn and to pivot. Let them know you want to help them understand why it is so important to fund our schools, why it is so important to have a meaningful assessment and accountability system, and why it is so important to empower our teachers and students.
Bring them voices that are often left out of the policy process. Students, teachers, parents, community members, business leaders – who all have a shared goal of providing TX kids the best possible education to create the brightest future for them and those around them.
You may be pleasantly surprised at how much influence you have. Or – you may be disappointed and find that your elected officials have a different agenda, maybe one paid for by people who don't have the best interest of kids in mind. Still, it is so important to get to know them. Offer them information and insight to help them make good policy, and then… if you are disappointed in their representation, vote them out. Even better, find someone to oppose them, or you run yourself. It is a constant cycle of civic engagement that makes our elected officials responsive to us and helps us build a better democracy.
The 88th Texas Legislative session starts on January 10th, 2023. That is 2 months from now. This is a great time to make contact and make yourself indispensable. You want to be the first person they call when there is a vote on something related to public education. They need you and you have the power to inform and educate. Sure – it is way easier to help make good policy when we have elected officials who believe in public education. But it is even more vital that you engage when we don't. Every one of you has the power.
It is a continuous circle. The practice of voting and engaging and advocating.
What isn't a circle is the lives of 5.5 million Texas kids. They get one shot at growing up and getting an education and we need to get it right. They deserve to go to schools that are funded better than 49th in the country. They deserve to have meaningful and engaging learning instead of test prep. They deserve to have teachers who feel valued and supported. They deserve to feel that school is a safe and nurturing environment. They deserve to be proud of who they are and be taught the truth of our history so they can do better. And our state deserves a future where kids get those things.
All the work that you do gives our kids, educators, and communities the chance to thrive that they deserve. I'm so grateful to be part of this community that works so hard for all these things. When I'm tired or discouraged, what gives me the energy to carry on is having all of you as partners in this work.
Let's get ready to engage! Because the kids are always worth fighting for.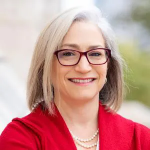 Laura Subrin Yeager launched Texas Educators Vote in 2015, and has been directing the program ever since. Laura attended public schools from K-12 in Montgomery County, Maryland, earned an undergraduate degree in Government from Cornell University, and a Masters Degree in International Affairs from the Johns Hopkins School of Advanced International Studies (SAIS). She has worked in government, the private sector, and the non-profit sector doing international trade policy, education policy, market research, and economic development.
About Texas Educators Vote
Texas Educators Vote is a non-partisan partnership-based project working to create a culture of voting in Texas public schools. We encourage and support educators in their efforts to model civic engagement for students. TEV aligns with the SBOE-written curriculum (TEKS), the Texas Constitution, and Texas laws requiring educators to register eligible students and staff to vote.