Happy fall, friends!
I recently ran into the parent of a former student and she reminded me that her daughter was going through an extremely challenging time when she was on our campus several years ago. Mom remembered the ways our school family supported her daughter through this struggle, and she was proud to tell me how well her daughter is doing today! What I remembered as small actions to help a student, Mom remembered as specific words and actions that occurred on our campus. Events I barely recalled, or had to be reminded of, Mom recalled in vivid detail. During this interaction, Mom expressed tremendous gratitude for how well our staff supported her daughter throughout her time on our campus.
I absolutely love these interactions and they remind me of the difference we make in the lives of our students, every day! In this scenario, our campus created a ripple effect for this student that her mother recognizes today. This interaction is not unique, as I know each of you have experiences similar to what I described.  Our words and actions have tremendous power with those around us. What we do and say today can create a lasting ripple effect for those individuals around us. In the words of Lorenzo Carmon,
"The ripple effect could be so great and far reaching that it is difficult to calculate the full impact."
As educators, our goal is for students to have a positive learning experience and be successful in our schools. When our students need more support, we work hard to put systems in place and find the help and/or resources they need to accomplish this goal.  Despite our best efforts, sometimes we may not see immediate results. However, the ripple that we begin with our words and our efforts today may be what produces a miracle in a child's future. We may never know and understand the full impact of the ripples that we create today!
Let's make a ripple, y'all!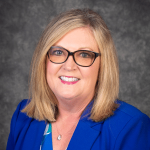 Cindy Tierney is the Executive Director of Student Services & Federal Programs in Lufkin ISD.