Because "education is on the ballot at every level" (Texas Educators Vote, 2021), please ensure you:
Register to vote.
Research candidates.
Vote in local, state and federal elections.
From the local school board to the President of the United States, learn who does what in public education.
Get tips for creating a culture of voting at your school.
Important Dates:
Last day to register to vote: October 11, 2022
Vote by Mail application due: October 28, 2022
Early voting: October 24 – November 4, 2022
Election Day: November 8, 2022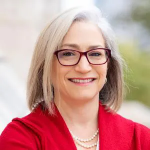 Laura Subrin Yeager launched Texas Educators Vote in 2015, and has been directing the program ever since. Laura attended public schools from K-12 in Montgomery County, Maryland, earned an undergraduate degree in Government from Cornell University, and a Masters Degree in International Affairs from the Johns Hopkins School of Advanced International Studies (SAIS). She has worked in government, the private sector, and the non-profit sector doing international trade policy, education policy, market research, and economic development.
About Texas Educators Vote
Texas Educators Vote is a non-partisan partnership-based project working to create a culture of voting in Texas public schools. We encourage and support educators in their efforts to model civic engagement for students. TEV aligns with the SBOE-written curriculum (TEKS), the Texas Constitution, and Texas laws requiring educators to register eligible students and staff to vote.