I am so excited to contribute the first supervisor focused article to TEPSA. It has long been a goal of our Association to focus on the "S" in TEPSA. The world of education is in constant change, and what an honor it is to serve as the "S" in TEPSA in a time like this. We are all servant leaders at heart, and there is no position that better fits that leadership style than a supervisor. Our education friends in the trenches and on the frontlines need our support, guidance, and motivation now more than ever.
TEPSA defines the "S" as a supervisor or anyone who serves campuses in a district in a role other than principal or assistant principal. Or in other words, supervisors are the leaders who support the magic that happens every day in our Texas public schools.
The 2022 TEPSA Summer Conference was simply amazing and fit the theme "Better Together." Connecting with others and learning from so many incredible leaders was good for my soul. During my tenure as TEPSA State President, my goal was to build up offerings for the "S" in TEPSA. Unfortunately, COVID happened, and my presidency became a virtual presidency. However, as TEPSANs we never give up and I was able to see the goal come to fruition at the recent TEPSA Summer Conference with a deep dive session just for the "S"! Presenting that session with my fellow TEPSA friends and connecting with so many other supervisors was such a treat. I am proud to say that from this point forward supervisors will find an article in TEPSA publications geared toward them!
I also had the honor of presenting a session with my superintendent, Dr. Mike Gonzales, focused on providing supervisors with ideas on how to support campus leaders by leading and growing them throughout the school year. I am a firm believer in using my time during the summer months wisely to plan, organize, and prepare for the upcoming school year. Once the year starts, it seems to fly, and all those good intentions that you thought about doing during the year go out the window. However, if you take the time to plan and schedule the things you want to do to continue to build your people up throughout the year it will happen, and everyone will be better because of it!
Here is a recap of some of the things we shared that can help you throughout the 2022-2023 school year.
1. Set the Tone for the School Year
Plan a retreat to kick off the school year. This is a time to bring everyone back together and set the tone for the school year. Have a theme and a book that sets the tone. You can use the theme and the book throughout the year to recenter your people and remind them of where the year started.
2. Make Staff Meetings Meaningful
Think about your staff meetings now. If you are going to bring your people together for a meeting you want it to be meaningful, recenter them, and have them leave with something that helps sustain them throughout the month. This year we started every staff meeting with a focus on students. We had campus principals share information about a randomly selected student. It was a great way to keep us focused on kids throughout our meeting.
3. Attend the TEPSA Grow Leadership Conference with Your Team
Our district has attended the Grow Leadership Conference as a team since the conference started and it has been a game changer for us. It falls at a time of year when you need it most, right after you survive October! We take the 5-hour road trip together and it is just what we need to refocus ourselves after getting the year started. The conference is focused on leadership and fits every member of your team regardless of role and grade level. We take everyone! The conference is November 6-7 at the Austin Renaissance Hotel. You do not want to miss it!
I encourage you all to do as John Maxwell says, "Be intentional to add value to every person you meet everyday." TEPSA is thankful for all our supervisors out there adding value to those working so hard in our Texas public schools every day.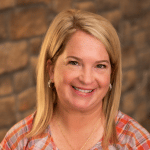 Julie Gauthier is the Deputy Superintendent in Port Neches-Groves ISD. Her career in education spans 23 years, serving as a 4th grade teacher, curriculum coordinator, elementary principal, and assistant superintendent. She is also a TEPSA Past State President.