Imagine a classroom where we could empower every voice in that room — where we celebrated the ideas of not only the students who raised their hands but where every individual had a platform to make their thoughts seen. When we leverage the right edtech tools in our classrooms, we can shine the spotlight on what all students have to say. We can provide those students who may be quiet or need more time to process before sharing a way to contribute to the conversation in a format that best fits their style.
In my experience, onboarding simple edtech tools in my classroom has opened up the chance for me to understand my students in whole new ways. Some of the quietest students in my classroom have found their voice on video. And students who hesitated to share in front of all their peers become eager to contribute when their answer can be anonymous. Tech integration has allowed me to build next-level relationships with my students and be compassionate to the needs of all learners in the room.
Let's dive into a couple of tools that have made a significant impact. And while the tools I will describe have been transformative in my teaching, please remember that I did not start with the tools. I started with a problem. After identifying what I was seeking to improve and why, I then began looking to technology as I pieced together my solution. For me, technology has allowed me to:
– Get to know my students as individuals
– Deepen the relationships I can build
– Hear from each and every student
– Be the most efficient teacher I can be
My initial problem was lack of time. When I began teaching AP Calculus, the curriculum was so packed I found myself spending the majority of class time at the board. This was not what I envisioned my classroom would look like. And so, I discovered screencasting and — back in 2010 — began offloading the very teacher-directed portion of class to video. Flipping my classroom was just the start of my journey.
In the years since I began making video lectures, I have integrated tools like Edpuzzle, Pear Deck, and Flipgrid. With Edpuzzle, I can get insight into individual and full class needs before students even walk into the classroom. With Pear Deck, each student can actively engage with each question and have the time to formulate a response on their own device before we launch into discussion. With Flipgrid, I can open up space for both private video check-ins and a full-class celebration of multiple approaches to a problem, all while allowing students to record in an environment that feels most safe and comfortable for them.
I could talk at length about how each of these tools works and why I've selected each. In fact, I do just that in my book, Tech with Heart: Leveraging Technology to Empower Student Voice, Ease Anxiety, & Create Compassionate Classrooms. But a tool is only a tool until it is part of a solution. We must first take a step back and look at our essential goals for our classroom. Once we identify those priorities, we can start looking at how the intentional integration of technology into the design of our lessons will transform what is possible.
We are primed for really important work in edtech at this moment in time. Teachers have so many tools in their toolbox; the next step will be to think carefully about what to keep and what to leave behind. As the urgent need to make massive shifts settles, teachers will have time to reflect on what worked in remote and hybrid learning and how to redesign in-class lessons infusing these tools. I hope that we will think carefully about how the technology we have right in front of us can allow us to build more equitable and empowering classrooms.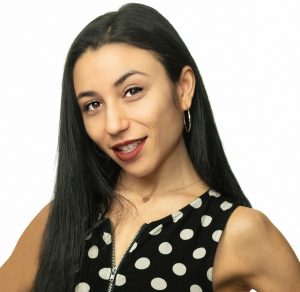 Stacey Roshan is Director of Innovation & Educational Technology at Bullis School and author of Tech with Heart: Leveraging Technology to Empower Student Voice, Ease Anxiety, & Create Compassionate Classrooms. She is passionate about bringing innovative tools into the classroom to create a safe learning environment for all students to find their voice and build confidence. Her work has been featured in USA Today, The Washington Post, CNN and PBS Newshour. She has also been named Teacher of the Future by NAIS. In addition to teaching high school students to love and understand math, Stacey works closely with faculty to design tech-infused lessons aimed at providing the optimal learning environment for all students.