Watching the inaugural ceremonies reminds me of the greatness of our nation. Every four years as a nation we welcome the beginning of a new Presidential term along with the terms of many other legislators. The ceremony is filled with celebration and is important to our nation's continued development. However, the pomp and circumstance remind me as much about the greatness of our democracy as it does the road we have yet to travel.
We will soon hear from President Biden in a State of the Union Address. As a child, I remembered the State of the Union Address as nothing but an entertainment nuisance. Turning on the television, the speech was of no interest to me. Then to realize every channel carried the same Address was simply a disappointment to a young child looking for his regular prime-time lineup. Of course, through different stages of my life, the Address became of interest for multiple reasons. Some for the pure substance of the speech, and other reasons included a lighthearted interest in the comical reactions of both sides of the political divide. Be honest and admit you too made humorous comments!
In last year's Address, as I was lost in the rhetoric, I noticed the camera many times panned the audience of legislators. Though I have recognized this for many years, something seemed to stand out more than in years past. I noticed most of the legislators were white men. Certainly, I did not look at the specific bios of each member, but it was undeniably and visibly evident. As I continued to reflect on this awareness, I thought of one question, "Why?" However, even my internal question "Why" quickly changed to "Why not my child, your child, the children whom I serve? Why not?"
Growing up as a first-generation immigrant, the world of politics was not a family aspiration, discussion or tradition. Never did my siblings or I think of entering the world of politics. Never did my parents foster that dream or profession. Why not though? Perhaps my parents surviving and fleeing the Marcos regime and marshal law of the Philippines had much to do with their disinterest in political involvement. They simply wanted to provide for our family. However, they were always grateful and appreciative of our freedoms and opportunities in our new home, the United States.
Now more than ever, "Why not our own children and those whom we serve? Why not our children of color from neighborhoods and family backgrounds historically not involved in local, state or national politics?" My awareness was not only an epiphany, but a calling.
We, as school administrators, have a responsibility to advocate for our students. We can share our experiences and tell our stories, and that of our students. However, the best way to tell our story is to empower our own children and the children whom we serve. There is no one else better to spark the interest of schoolchildren to understand they can be, and should be, a part of the democratic process. Let there be a time in our history when the camera pans and those clapping are representative of the stories we continue to tell, representative of all people who beautifully make up our land of opportunity, representative of the American Dream. Why not our own children whom we serve? Why not?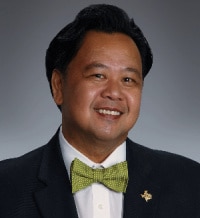 Victorius Eugenio, a principal in Fort Worth ISD, draws on his experience as an immigrant to serve and advocate for his students and their families. A longtime TEPSA leader, he currently serves as the National Association of Elementary School Principals Zone 8 Director.
Banner Photo: Vic and his daughter advocating at the State Capitol.