The mentoring effect cannot be left to chance.
On January 27, 2021, hundreds of youth mentoring advocates participated in a virtual Capitol Hill Day meeting with congressional offices to discuss the impact of mentoring on young people.
These advocates work in your districts and states to support young people through their challenges and accomplishments. They consistently show up for youth when they need it most and help them navigate through school, careers and life. At a time when one in three young people will grow up without a mentor of any kind, it's more important than ever to close the mentoring gap for kids.
Mentoring can be a critical support for young people. Please contact your US Congressman and ask him or her to:
Protect the federal investment in quality youth mentoring programs in order to serve more young people in their communities. Please support $120 million for the youth mentoring grant in the Commerce, Justice, Science Appropriations bill in fiscal year 2022.
Co-sponsor the Foster Youth Mentoring Act to support the need for mentors for our nation's most vulnerable and resilient youth in the foster care system.
Co-sponsor the Chronic Absenteeism in Every School Act to support school-based mentoring programs that serve chronically absent students to bolster academic achievement and attendance.
Co-sponsor the Emergency Educational Connections Act to provide schools and libraries funds to invest in connectivity for students, educators and more.
Join the Congressional Youth Mentoring Caucus and work collaboratively to draw attention to the importance of youth mentoring. Email Faith Wilcox (Rep. Scanlon) to learn more.
More than 2,800+ people joined the recent National Mentoring Summit to collaborate, expand the mentoring movement, and ensure relationships are prioritized and responsive to our young people and the times. The summit particularly highlighted the resourcefulness, innovation, and resilience of the movement in showing up for each other so we can show up with everything we've got for our young people.
Thank you for supporting youth mentoring!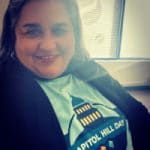 Lorena Zertuche, Spring ISD