As we look back at 2020 and ahead into 2021, let's be reminded of all the ways we became better together.
Better individuals, better educators, better spouses and parents, better at showing grace, showing up and stepping up. Better at realizing what truly matters, what the word essential truly means and better at truly loving our family when at a moment's notice, it felt like they were all we could hold onto as the world and life as we knew it slipped away and changed time and time again.
Let's look at 2020 as the year that challenged us, changed us and refocused us FOR THE BETTER. The year that some might say stripped of us of everything that mattered when really it gave us more than we can fathom. While struggle, heartache and dark times touched everyone this past year, this year highlighted occupations nationwide that stood up and showed up in a time of uncertainty. 2020 reminded us that educators, healthcare workers and first and front line responders are essential to the health and success of our nation.
The impact of 2020 will be felt for years to come and there is no denying we in education have great, great work to do. Through the crisis teaching of Spring 2020, regrouping during the summer and launching into virtual and in person learning opportunities for the fall of 2020 and beyond, educators have proven time and time again they are capable of tackling any hurdle thrown our way and in 2021, you can bet we will continue to do just that.
As we shift into a new year, let's also ensure we shift our mindsets to see the potential that lies ahead as we leave 2020 behind and better than we found it. Let's not think in terms of the next 12 months or the next 365 days, but let's focus in on this next week, the next day, the next five minutes. What small wins can we create for our district, our campuses, our staff, our families and most importantly ourselves? How are we prioritizing aspirations, goals, student and staff needs, scheduling self-care and balancing life as we know it right now?
For many, resolutions are lofty and frequently broken but sought after as a source of alignment for the new year ahead and for what individuals, families, schools, and districts hope to accomplish. Jon Gordon  and I are adopting a One Word for the Year, and we challenge you to join us! This is the act of adopting one word that impacts all six areas of your life – mental, physical, emotional, relational, spiritual and financial. As Jon shares, "Simply put, One Word sticks. There is a word meant for you and when you find it, live it and share it, your life will become more rewarding and exciting than ever."
Ironically, for 2020 my One Word was JOY. I can remember choosing it one final day in December of 2019 and feeling the overwhelming conviction that this was my word for 2020. Throughout the unprecedented events of 2020, I used my one word to drive my actions and keep my mindset centered. Joy gave me direction, purpose, and motivation daily even when it seemed like life had become impossible.
This year, I hope you find your One Word & allow it to guide you as we navigate a fresh, new year with unlimited possibilities. This will be my seventh year to choose One Word and I can promise you, it works. Follow me on Twitter at @AGFaubs to discover what my One Word for 2021 is and always remember, we are leaving 2020 FOR THE BETTER.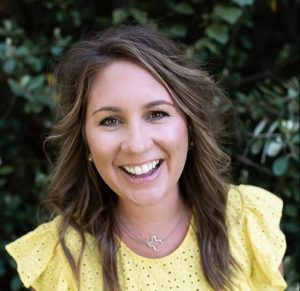 Amanda Faubion is an Elementary Instructional Coordinator in Katy, Texas. Formally she served as a Special Education Teacher, Department Chair, and has taught grades PreK-8th. She is a student centered educator passionate about positive student outcomes and servant leadership. She believes in relationships first and kindness always.