We've all heard the term, "You will always find what you are looking for." During this time of unprecedented events and protocols in our nation and world, what are you looking for?
As a momma to a young kiddo and as an educator, I am looking for the opportunities to do good each and every day. Opportunities to embrace what is new, different, and flat out uncomfortable. I am looking for opportunities to respect someone else's stance, opinion, and consider what I can do to make them feel respected, valued, and comfortable. I am looking for ways to keep my own kiddo's life as normal as can be while explaining to her in the most appropriate way how our world is suffering right now and the importance of checking in with others.
As a school administrator, I am looking for ways to show up, step up and into situations, and take on tasks that others are unable. I am looking for ways to appreciate the heck out of our staff and remind them that they too can do hard things. I am looking for ways to build upon relationships already established, create new relationships and mend those that are wilting. As an administrator, I am looking for ways to bring joy into the building each and every day. Looking for ways to bring smiles to students and their families and offer simple reminders that we are all in this together, discovering new ways of doing things, failing and then getting back up and trying again. I am looking for ways to extend grace, share love, spread kindness, and let others know I believe in them today and everyday.
Most importantly I am looking at all of the ways we acknowledge the reality the year 2020 has provided us and look to utilize its harsh proceedings as an ultimate reset to refine how we value all things in life from relationships to careers, our health, our communication, collaboration and appreciation. Things are going to continue to be different but they can still be excellent for students, for staff, for teachers, for families, for administrators and those leading in all areas of education.
As we move through this last quarter of 2020, I challenge you to look for the good. Look for the good in your district, your campus, your teachers and staff. Look for the good taking place through virtual learning opportunities and meetings, face to face instruction and connection, doing away with old practices and creating new norms, and students showing up on your campus or computer each and every day because your school is where they want to be. As educators, we have the capacity to change how others view themselves. It is our responsibility to help them see all the good they are doing during this unprecedented time. And in the event no one has told you today: you are doing incredible things. You were not taught to be an educator through a pandemic but you are adapting and you are making a difference. You are so great. You got this.
We find whatever it is we're looking for. Be sure you are looking for the good in yourself and others.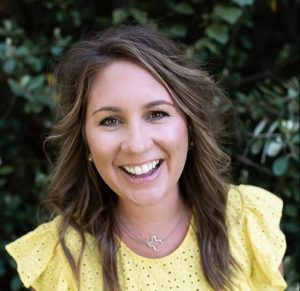 Amanda Faubion is an Elementary Instructional Coordinator in Katy, Texas. Formally she served as a Special Education Teacher, Department Chair, and has taught grades PreK-8th. She is a student centered educator passionate about positive student outcomes and servant leadership. She believes in relationships first and kindness always.