It has been a year filled with elearning, limitless imagination and resilience. Before school closures, my school had an opportunity to attend an amazing mindset assembly that taught students to never give up, encourage others, and do their best. The three mindsets spoke to me as I reflected on this past principal and presidential year.
As leaders, we have the unique opportunity to lead, learn and grow every day. Often, we have to remind ourselves we need to be limitless and instill limitless possibilities in others. This year, Texas and our nation, had to regroup and rethink learning. It has been a mind-opening journey for all of us. The end of the school year brings us a new chance to improve on leadership and direction. What would you do differently if you had no fear? What would you do if you truly believed that your own possibilities were limitless?
Change is hard. During this time we need the courage to revisit a time in our lives when imagination was limitless. How can we do this? We have to be bold, fearless and take action. I read an article by Kevin Daum and it was life changing. In the article he talks about seven things really bold people do.
They own their flaws and strengths.
They keep clear priorities.
They speak up.
They pair action with knowledge.
They accept the value of failure.
They make the most of small wins.
They build momentum.
As leaders, we have the ability to change our world. The opportunity to be bold, fearless and limitless is within our grasp. We have seen our schools rise up this year and become champions for children. This summer, take time to gather your thoughts and improve on ideas that challenge your imagination.
I've been honored to serve as your 2019-2020 state president. Thank you for an extraordinary TEPSA year! This opportunity has allowed me to be limitless and lead an exceptional association during an unprecedented time. Have an amazing summer and a magical new school year! Be Bold! Be Fearless! Be Limitless! #WeLeadTX and #WeGrowLeaders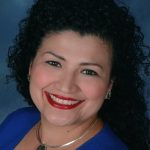 Annette Sanchez
Beeville ISD
2019-2020 TEPSA President