February can be one more of the more…trying months…as an administrator. It can bring some of the lowest morale of the year. (For those in the colder regions of the state—indoor recess! Need I say more?) It's winter, and your school might or might not have a day off during February. The next break could be weeks away in March or April, which can seem so far away…and that winter break feels like a lifetime ago. My principal BFF and partner in crime, Melinda Miller, likes to say that October and February are like the two armpits of the school year. But have no fear…with a little bit of intentionality and planning…you can make February fabulous!
While we hope you can pick and choose from activities in "Lead with Appreciation", February is a fantastic month to incorporate a specific plan. Being intentional to lift spirits and encourage teachers will pay off in the long run! Fabulous February has been an evolving idea that Melinda and I have stretched and adapted throughout the past 6 or so years, but we are quite sure it originates back further than that…pre-pinterest and social media. What was an idea in passing has now evolved into a detailed activity my staff looks forward to every year. It can be as elaborate or as simple as you would like to make it, because honestly, it's the thought that counts!
Here are a few tips to help you get started:
Plan ahead.
This means before February 1. This isn't really a new concept for principals, so you're probably in good shape. Start planning early! If you love it, you can start planning for it as you develop budgets or delegate personnel in the summer. Create a "Fabulous February" list on your phone and add to it as you think of things or see things. Word of caution: You will want to do everything. Ideas will pop up everywhere. FOMO (fear of missing out) is real at this point. You are also human and suffer from the February doldrums. February may not necessarily be your shining hour either. You will be giving a lot of yourself to parents students, and teachers. Choose a few things to start with this year. It's easier to add activities in the future than to take activities away. You never know what activities are going to take off with your staff.
Recruit your secretary/counselor/assistant principal.
I could not pull off our Fabulous February without my office staff. I call in all reinforcements! We divide up tasks and start early in January. They love it! Okay, let me clarify. They enjoy being able to do fun things and bring joy. Some of the tasks leading up to the event might not be their favorite way to spend time. Depending on how indepth and creative you want to get will define the level of craziness. One principal we know does a fun theme each year…it's so fun to watch! From hit television shows to popular movies…why didn't I think of that? Snacks, decor and calendar planning, all matching. It's fantastic!
Below are some theme ideas that I have seen success with our staff:
Fab Fridays: Fridays are a great place to start celebrating simply in February. Choose four to five activities for your staff to enjoy on each Friday. This gives you the whole week to plan and delegate. You can break your activity up into daily tasks for you and your secretary so it's not one huge project for either one of you.
Fabulous Foods of February: This is another way to streamline activities. Maybe all your events revolve around food, I know my staff never turns down a #snackiesnack! Small snacks and drinks are easy to come by. Does your school have a popcorn machine? Is a local restaurant or business able to donate something? Parents also love to help! We've done a "Fill the fridge" event where for less than $100 we cram our lounge fridge full of grab and go snacks, like pudding cups, fruit and fun drinks. You can also post an online sign-up for desserts or treats, and parents could provide the work and food.
Fashionista February: Different outfits of the day! Jeans Day, Polka Dot Day, toboggan Tuesdays, Mix match Monday, Work Out Wednesdays, Gaudy Jewelry Gala, etc. The nice thing about dress-up days is you can involve the students and they will love it. It's not a lot of work for anyone and…it's free!
Souper Bowl: Elicit help from parents to bring a "soup-er" lunch for your staff. Crockpots, soups, chili's…all good things! I do this every year around the Superbowl, even if my beloved Cowboys have had a couple months off at that point.
Chocolate Fountain: Fresh fruit, melted chocolate—what's not to love?
Secret Pal: This is the same concept as a secret Santa but centered around Valentine's Day. Parameters can be established as you see fit for your people: duration, price limit, etc.
Cupid Cart: Wheel around your fun cart full of favorite treats and drinks. Let teachers choose something they "love."
You're the balm!: Let your staff know they are the "balm." Amazon sells bulk Chapsticks you can hand out to your teachers. This is a favorite for both your female and male staff!
You have a pizza my heart: Serve your staff pizza for lunch!
I scream, you scream, we all scream for Fridays!: Help yourself to an ice cream treat in the lounge freezer!
Our staff is all that and a bag of chips: Attach a fun note to lunch-sized chip selections and let them choose their favorite!
Chili cook off: Have staff bring in their favorites and have a chili tasting contest. Invite your superintendent over to be the judge!
Give out Bitmoji bookmarks: Ask your teachers to send you their "Bitmoji" via text. You can use on bookmarks, notepads or my personal favorite, encouragement stickers! We put one page of personal Bitmoji stickers in their mailbox and teachers thought they were super fun to share with their students.
Couples challenge: This one is always a hit! Find pictures of popular celebrity couples. Cut them in half and leave one half on each teacher's desk. The challenge is to find their match, without using technology! You can mix this up with old and new favorites, from famous TV couples (Fred and Ethel) to new matchings (Justin and Haley). One year I stalked Facebook and found "couple" pictures of our staff with their loved ones and used those! We gave baked treats (just homemade banana bread) for the first five couples to find their match.
A Flair-ly easy treat: Give your teachers Flair pens (either a couple or a whole pack!) and tell them how Flair-y awe-some they are!
Share the love: Cut out paper hearts and have available for staff to write each other heart-happy notes. You can ask students and parents to contribute as well. Hang them around the building or stuff mailboxes!
Fizzy Drink Friday: Have a varied assortment of drinks or make a gas station/Sonic run to fuel up your team!
Cookies and milk: Who doesn't love Oreos and milk? Have an assortment of cookies and milks for staff on your woohoo wagon or treat cart for them to choose from. I've added 2-percent milk, whole milk, and even almond milk to make sure I've covered all my bases!
Share the "encourageMINT!": Add positive happy quotes on labels to the little boxes or rolls of mints and encourage staff to tweet out different encouragements for others!
If February gets away from you, don't fret because there is always Marvelous March and Awesome April! (Or turn these ideas into Jubilant January!) What matters the most is that you are taking the time to be intentional about showing appreciation and helping encourage your hardworking staff. A team is only as strong as its weakest link, and part of your responsibility as the leader is to build up all the links. By recognizing and encouraging our team members and knowing what makes them tick, you find where and how you can build them up! You won't regret it!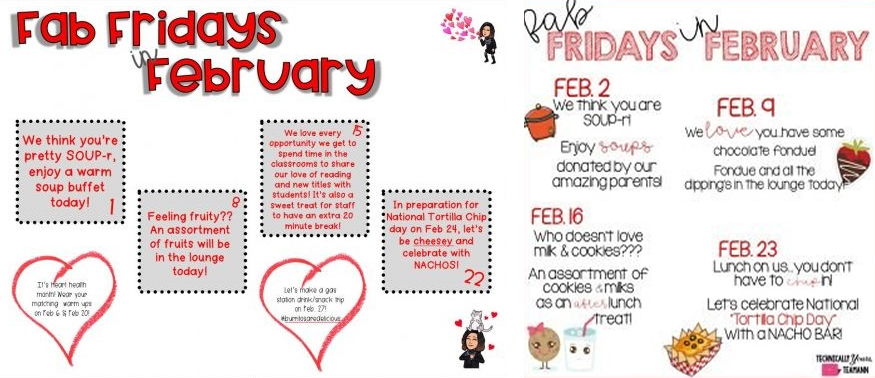 My PIC Melinda Miller and I have a Facebook group completely dedicated to administrators and staff appreciation/motivation ideas. If you're an administrator (at any level!) join the fun and share what you do to keep your climate and culture healthy and happy! Just search Principals Staff Appreciation & Motivation Group to find us on Facebook.
The only thing we talk about are ways to celebrate and lift up your hard-working teachers and coworkers. From counselors' week to staff appreciation gifts, there are a lot of people doing awesome things and we're sharing all that we can! It's already 1100 admin strong, so come join the party! In addition you can find EVEN MORE by getting your copy of "Lead with Appreciation" by Amber Teamann and Melinda Miller.