#WeLeadTX Premier Pack
New this year! Show your pride serving as a Texas leader. Items designed exclusively for TEPSA by Berteau & Co.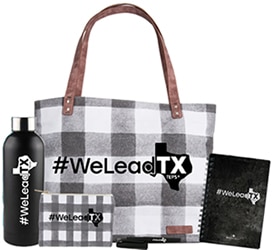 #WeLeadTX Premier Pack includes:
Canvas tote bag
Matching small canvas bag
Hydroflask
Notebook
Pen
Sticker
Valued at $125. Preorder your TEPSA Premier Pack for $30. We'll have them ready to pick up at Summer Conference. Available for presale only. Limited quantities available.
Add the #WeLeadTX Premier Pack to your cart during the online registration process or via the PDF.