Happy fall, friends!
I hope everyone's year is off to a great start as you "Ride the Wave!" In the last issue we focused on how successful leaders embrace change as they navigate through difficult situations. In this issue, we will focus on another skill utilized by leaders: effective communication. Consider the following quote:
 You can't stop the waves, but you can learn how to surf. – Jon Kabat-Zinn
Effective communication plays a crucial role in the success of educators as they surf the waves. It establishes a strong foundation for building positive relationships with students, parents, colleagues, and communities. By developing excellent communication skills, leaders can effectively convey information, inspire, and motivate learners, resolve conflicts, and create supportive learning environments.
A fundamental skill in becoming a great communicator is to be an active listener. As educational leaders, we have so much on our plates, but when we do not stop to listen to others, it may appear we are too busy or uninterested in what they have to say. However, by giving undivided attention and maintaining eye contact, listeners demonstrate respect and empathy and foster an environment of trust.
Another strategy great leaders utilize is clear and concise language. We have a lot of educational jargon and acronyms that are a part of our everyday language. It is important to consider our families, communities, and even new staff members who may not fully comprehend our intended message when we use complex terminology. To communicate effectively, we must adjust our message and vocabulary to suit the needs of our audience.
Technology can be such an asset to educational leaders! Utilizing social media and a wide range of applications enables efficient and timely communication with all stakeholders. However, the use of technology is not appropriate in every situation. As leaders, we are experts in multi-tasking, but others may see our devices as distractions when we should be present with those around us. Effective communicators understand people are always more important than devices and utilize technology when appropriate.
As educational leaders, it is essential that we communicate effectively with stakeholders. Using strategies such as active listening, clear language, and the appropriate use of technology, we can enhance our communication skills and surf any wave that comes our way!
Ride the wave, y'all!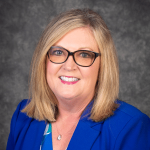 Cindy Tierney is the Executive Director of Student Services & Federal Programs in Lufkin ISD.