Spring is in the air!
This time of the year we start to have longer, warmer days, and we begin to enjoy the beauty around us. We may notice a sense of energy and excitement during this season. There are more opportunities to get outdoors and/or connect with friends in our community.
From an early age, I realized a passion for helping others. As a student, I participated in every club in my high school! As an adult, I learned to prioritize and commit to organizations that aligned with another passion…the success of children and their families.
Our efforts are more effective when we care deeply about the mission of the organization. The goal of the Junior League of Lufkin is to support children and women in poverty. The mission of this organization closely aligns with my passion for supporting children and their families. I also volunteer with Rotary Youth Leadership Awards, or RYLA. This is an annual event for high school juniors and the focus of the weekend is to build leadership skills with these students. This event also aligns with my passion.
Almost 10 years ago, my husband and I decided to chair a monthly event that connects our church with one of our campuses. Individuals from the church and district donate food and/or volunteer at the monthly event where we consistently serve over 400 hot dogs and hamburgers. This event is held on one of our elementary campuses on the second Saturday every month. While "Cook and Serve" is open to the entire community, students and families primarily attend this event. It has been so much fun to interact with our visitors and see our school community through this lens. I believe this event has enabled stronger relationships and greater trust between our district and our community. Our volunteers have created a ripple effect through their donations and their service each month.
As we begin the start of spring, please take some time to reflect on what is important and seek out volunteer opportunities that align with your passions. When we serve our community, it makes an impact on our students and families. Throughout this process, and regardless of your passion, here is my challenge:
Create a ripple effect that transforms the world around you.  -Unknown
Let's make a ripple, y'all!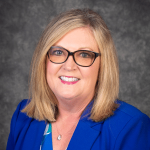 Cindy Tierney is the Executive Director of Student Services & Federal Programs in Lufkin ISD.