As we set goals and resolutions for the new year, please note Danielle Doby's powerful message:
Ripples. When you create a difference in someone's life, you not only impact their life, you impact everyone influenced by them throughout their entire lifetime. No act is ever too small. One by one, this is how to make an ocean rise. -Danielle Doby
When I read that quote, I think of all the people who mentored me and guided me to become the person I am today. I had so many friends, family members, and colleagues who poured into my life and challenged me to take on new opportunities. They believed I was ready for new adventures, and they often had more faith in my abilities as a leader than I had in myself! Without their influence and encouragement, I would not have had the courage to seek new opportunities and develop my leadership skills. The impact these individuals had in my life created a ripple, not only for me, but for others I have encountered and mentored throughout my career.
Every year, my new year's resolution is to create this ripple in the lives of others. I want to grow our future leaders as others have grown and refined my leadership skills. I have a recurring appointment on my calendar that reminds me to reach out and mentor others who are developing as leaders. Sometimes this is just a simple phone call or a text message to let this individual know I am thinking of them. Sometimes I pass along information I feel is pertinent to them in their role. Often, these colleagues will call to seek my advice on a difficult situation. Many of these friends are within our district and our region, but others are across our great state. These actions are small, with minimal time requirements. The hope is for that tiny pebble to create a ripple effect so they will influence others, and as Danielle Doby says, make the ocean rise!
Let's make a ripple, y'all!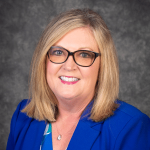 Cindy Tierney is the Executive Director of Student Services & Federal Programs in Lufkin ISD.