Hello colleagues!
I recently had the privilege of representing you at the NAESP National Leaders Conference in Washington D.C. We received a third-place award for our increase in NAESP members! If you are not a member, please budget for 2022-2023 membership. As with TEPSA membership, being a member of our national association is worth every dollar!
While in D.C., we heard the latest information regarding the leaders we need now; the importance of being equity-driven, data-centered, and student-focused; ESSER spending; state and federal education policy perspectives; and of course, staff and student mental health.
As a naturalized citizen whose parents immigrated from Mexico, my heart is full to be working under the leadership of the first Latina Superintendent in Spring ISD and TEPSA member, Dr. Lupita Hinojosa, and to hear the first Latino serving as the U.S. Secretary of Education, Dr. Miguel Cardona. In his address to us, Dr. Cardona reminded us that opportunities lie within and after a crisis. We may never get another opportunity to press the reset button like we have in this pandemic. We need to use this opportunity to refine our schools and make them better.
We learned that our ESSER funds are under the microscope to ensure that funds are being used to support the needs of our students. We need to use ESSER funds for our teacher leaders to obtain administrative certification and to grow them into the campus and district leaders we need. Dr. Cardona stated that if we are not redefining our school day to include more mental health support, we are failing our students. If we are not addressing the mental health needs today, we will be addressing these needs in future years with a disciplinary focus. Social emotional support must be a tremendous focus.
During visits with legislators, we shared stories from the field and brought facts from the perspective that we are the experts! You are an education expert! Let your voice be heard! Who better than us to talk about what curriculum to put in front of our kids? We must do a better job of advocating for what is best for our kids.
We are ecstatic to see you at the TEPSA Summer Conference June 8-10 at the Round Rock Kalahari Resort. It will be a TEPSA takeover you will not want to miss! I am truly blessed and honored to have served you as your president this year and to continue to have you as a fellow TEPSA member. We are "Singing our Praises for School Leaders!" #WeLeadTX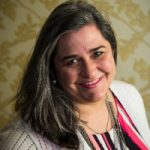 Dr. Zertuche is the Community Engagement Coordinator in Spring ISD.