Hello colleagues!
Happy New Year! I hope your 2022 is off to a great start this spring semester! At TEPSA we know school leaders need support now more than ever before. You cannot lead well if you are not well. One of my favorite things about principals is how when you get to know their career track, very few of them actually started out wanting to be a principal. They started as educators at heart, reached into administration as they saw an opportunity or a need for leadership, and stepped up to answer that call. It is that type of response that makes working with and for principals and school system leaders so incredibly special.
Over the years I have grown an immense appreciation for just how much a principal actually does to positively impact not only the staff in their school, but parents, students and their overall community alike. As a TEPSA leader, I have had the privilege of getting to know many of our principal and supervisor members and the one thing they all have in common is that they have an incredible dedication to educating and helping kids. So as you carry out your New Year's resolutions this year, remember to "put on your oxygen mask first".  As you support your staff, students and community, make sure you are putting practices and opportunities in place to support your own areas of need and promote social and emotional health.
Principals and supervisors have even more on their plates now in the reality of a COVID-19 world. We can make social and emotional health a priority by facilitating and encouraging mentoring opportunities and encouraging self-care and wellness through regular "check-ins." Ultimately, it is our students who will benefit the most as supported, thriving principals are more effective principals. We must move forward from where we are now and look to each other to embrace the lessons we have learned to drive greater educational excellence and equity for each and every child.
We are all so excited to see you at the TEPSA Summer Conference on June 8-10, 2022, to be held for the first time at the Round Rock Kalahari Resort. I am honored to serve you and to have you as a fellow TEPSA member. In this new year, we are "Singing our Praises for School Leaders"! #WeLeadTX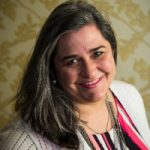 Dr. Zertuche is the Community Engagement Coordinator in Spring ISD.