Hello colleagues!
Time is marching on in this fall semester and my hope is that you are cherishing each day with your students and staff. School leadership is about people, not programs. Invest your time in getting to know your people as our work is truly all about relationships. That single pearl of wisdom shared with me long ago has served me well throughout my career and life. Treat everyone along your path with the respect and dignity they deserve. Any time focused on working with your students and their families and developing capacity in your staff is time well spent.
At the NAESP Conference in Chicago, I heard a couple of excellent keynote speakers who both reinforced my belief in servant leadership: Principal Baruti K. Kafele and Dr. Ruby K. Payne. Both had very important messages for us as school leaders. Principal Kafele shared that, "Equity is not solely something that you do. Equity is who you are. Equity is a reflection of the educators' humanity towards the students they serve." He went on to share that educators with equity mindsets recognize three non-negotiables for equity discussions in schools: student individuality, student cultural identity, and student voice—academically, socially, and emotionally.
Dr. Payne shared it is hard to change behavior but easy to change motivation for the behavior. All emotional wellness is based on safety and belonging. Emotions are 200-5,000 times faster than thought. Males will talk more if you sit side by side and if they can do something with their hands at the same time. Give students some water and have them look up to help them calm down. They also need processing time. Filling our learners' emotional gaps is just as important as filling their academic gaps!
Past NAESP President David Wick reminded us, "It's ALL about people. Nothing else matters!" Every day we need to be grateful and kind, share our stories, have hope, be humble, and love. It is a blessing to serve as your TEPSA state president. This school year make sure that you show up and are present for those you serve. I am honored to serve you and immensely thankful for the beautiful relationships TEPSA has afforded me. Thank you principals and supervisors for all of the many extraordinary ways you are serving the students and teachers of our great state!
Singing our Praises for School Leaders!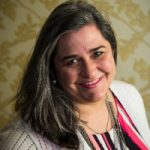 Dr. Zertuche is the Community Engagement Coordinator in Spring ISD.