Lumberton ISD Assistant Principal Named 2021 National Assistant Principal of the Year for Texas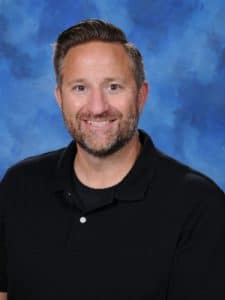 With a focus on nurturing relationships and embracing technology, Jason Morgan ensures students and teachers succeed at Lumberton Intermediate School in Lumberton ISD. Morgan's exceptional leadership and commitment to learners on his campus has led him to be named the 2021 National Assistant Principal of the Year for Texas by the Texas Elementary Principals and Supervisors Association (TEPSA).
"Jason is a true 21st century servant leader—fearlessly integrating technology into instruction and learning while never losing sight of what's best for his students and teachers," TEPSA Executive Director Harley Eckhart said.
Morgan strives to create successful learning environments by empowering teachers to use 21st century tools to share and grow their expertise. He leads a quarterly "Technology Lunch and Learn" where teachers share classroom strategies and programs. To help teachers and staff maximize their time, Morgan created the "Intermediate School One Stop Shop," a Google site easily accessed on a variety of platforms with critical school information including the school calendar, COVID-19 reports, emergency procedures, duty rosters, T-TESS questions, and more. Throughout the pandemic, Morgan has led efforts to create and implement resources for learners at home.
"Mr. Morgan's enthusiasm, innovativeness, and his genuine concern for all students has helped…our students become more successful in their school and home environment," Principal Paige Wing wrote in her recommendation letter.
The National Assistant Principal of the Year award is sponsored by TEPSA in coordination with the National Association of Elementary School Principals. The peer-selected award recognizes assistant principals who have demonstrated a positive impact on their students and learning. Criteria include:
A commitment to excellence and exceptional leadership as evidenced by student achievement and programs designed to meet the academic and social needs of all students.
Firmly established community ties and respect from teachers, students, and the community.
Exceptional leadership in a particular school program.
TEPSA is proud to have Horace Mann supporting the Texas program.
"We are honored to recognize exceptional leaders like Jason," said Lori Gray, Horace Mann Agency Consultant. "He's a true example of an extraordinary administrator going above and beyond during unprecedented times and his ability to touch the hearts of his students makes him a true champion for children."
Horace Mann is the largest national multiline insurance company focusing on educators' financial needs. Horace Mann provides insurance specifically designed for educators. Horace Mann offers auto, home, life, retirement products as well as supplemental products. In addition, Horace Mann recently enhanced the student loan platform and it is now powered by tuition.io. Founded by Educators for Educators® in 1945, the company is headquartered in Springfield, Illinois. For more information visit Horace Mann.